NightPad Wireless Charger
for iPhone
NightPad Wireless Charger
for iPhone
description
Specs
compatibility
Reviews
No LEDs to light up your bedroom.
Can charge iPhone at a 50% higher rate than standard Qi wireless chargers.
Minimal design - A consistent soft matte finish over the entire body. Non contrasting logo. Cord inset into the body. Raised support ring on the very outside edge for maximum support. 
Premium 6ft braided cable.
Supports true Apple fast charging. As an Apple MFi member, we have precise fixed frequency electronics that allow iPhone to accept up to 7.5W (many wireless chargers claim this, but max out at 3-5W). It also lessens radio interference. 
Qi certified. Supports Samsung 10W fast charging. Works with all other Qi devices.
Works through cases up to 3mm thick (tests over 6mm, but we're conservative). Auto metallic rejection. Underside vents and intelligent electronics with thermal management.
Get it with or without the 15W QC 3.0 power supply (US plug). NightPad works with all USB power ports, higher wattage the better, and QC 2.0/3.0 USB power supplies required for maximum power.
Qi Certified - works with all Qi devices
Supports 7.5W Apple Fast Charging
Supports 10W Samsung fast charging
QC 3.0 USB charger (9V) required for max speed
MicroUSB input
iPhone 8/8+/X & all devices with Qi certified receivers.
Works with non-metallic cases up to 3mm thick.
15W QC 3.0 charger has two prong US wall plugs and accepts 100v-240v
Do not use with credit cards cases, the magnetic induction can damage magnetic strips and RFID chips like those found in security badges passports, and key fobs.
perfect bedside charger
Sad this is discontinued. It was perfect for a room you're sleeping in because it emits close to zero light. (I say close to because if you peer deep into the little ventilation slots, you can just barely make out the dimmest little glow. But you have to be looking carefully for it.)
Not the fastest charger in the world, but then again if you're leaving your phone there for a bunch of hours that doesn't really matter.
Works great! (Just not for AppleWatch)
I love this charger! Low profile and works great with iPhone X. Fast charge too. Does not seem to work with AppleWatch Series 3 at least — not advertised that it does, but in case you were wondering.
Amazing product!
I loved this charger so much I immediately bought a second one. Drop your iPhone X on it and forget it. With the NightPad charger, I have no problems even with my Totallee case on and it charges twice as fast as most with then15w plug. I highly recommend the product.
No LEDs to Light up your room.
We ditched the unnecessary indicator lights to keep your bedroom dark as possible. And just like with a Lightning connection, iPhone can give you a visual, auditory, and vibratory alert that it's charging.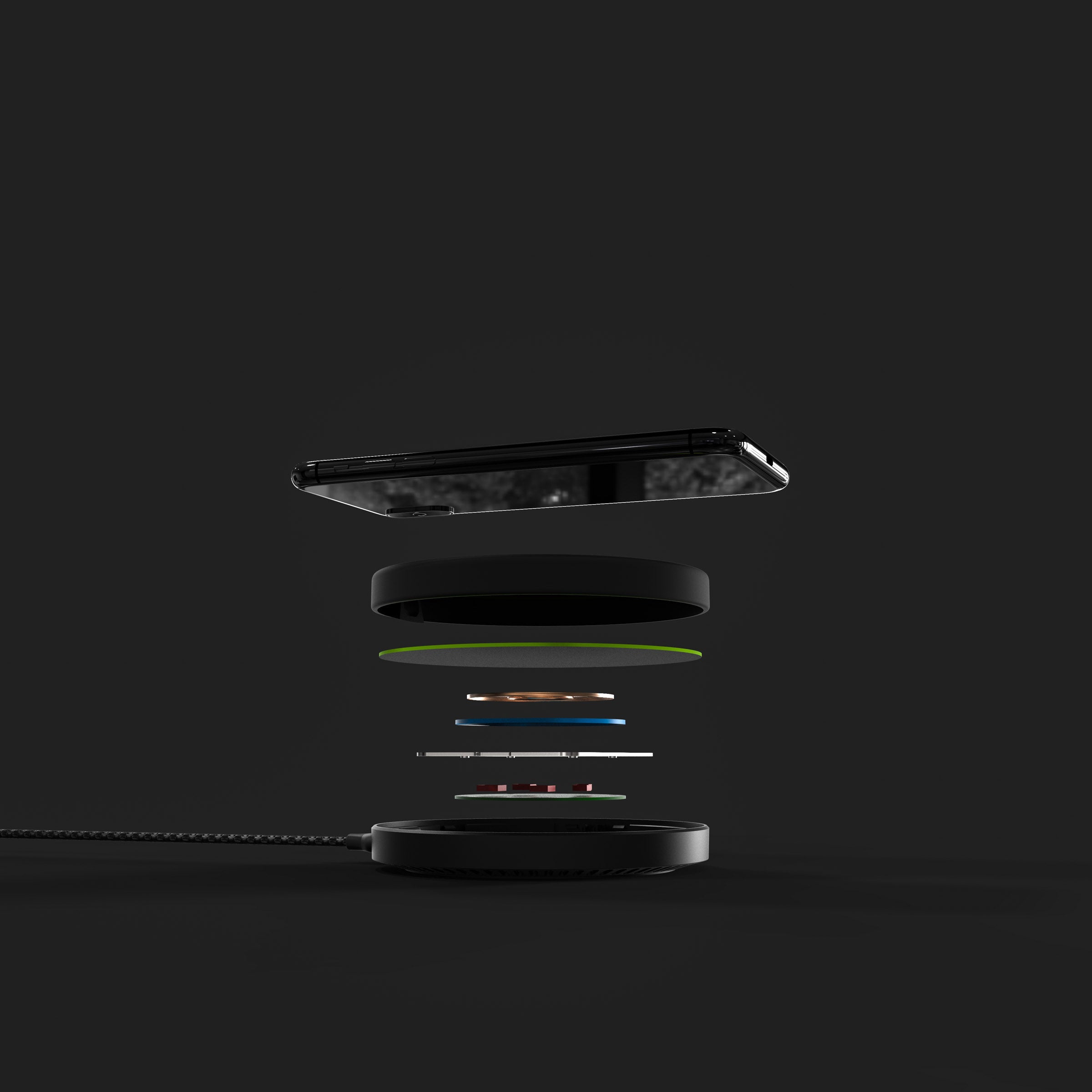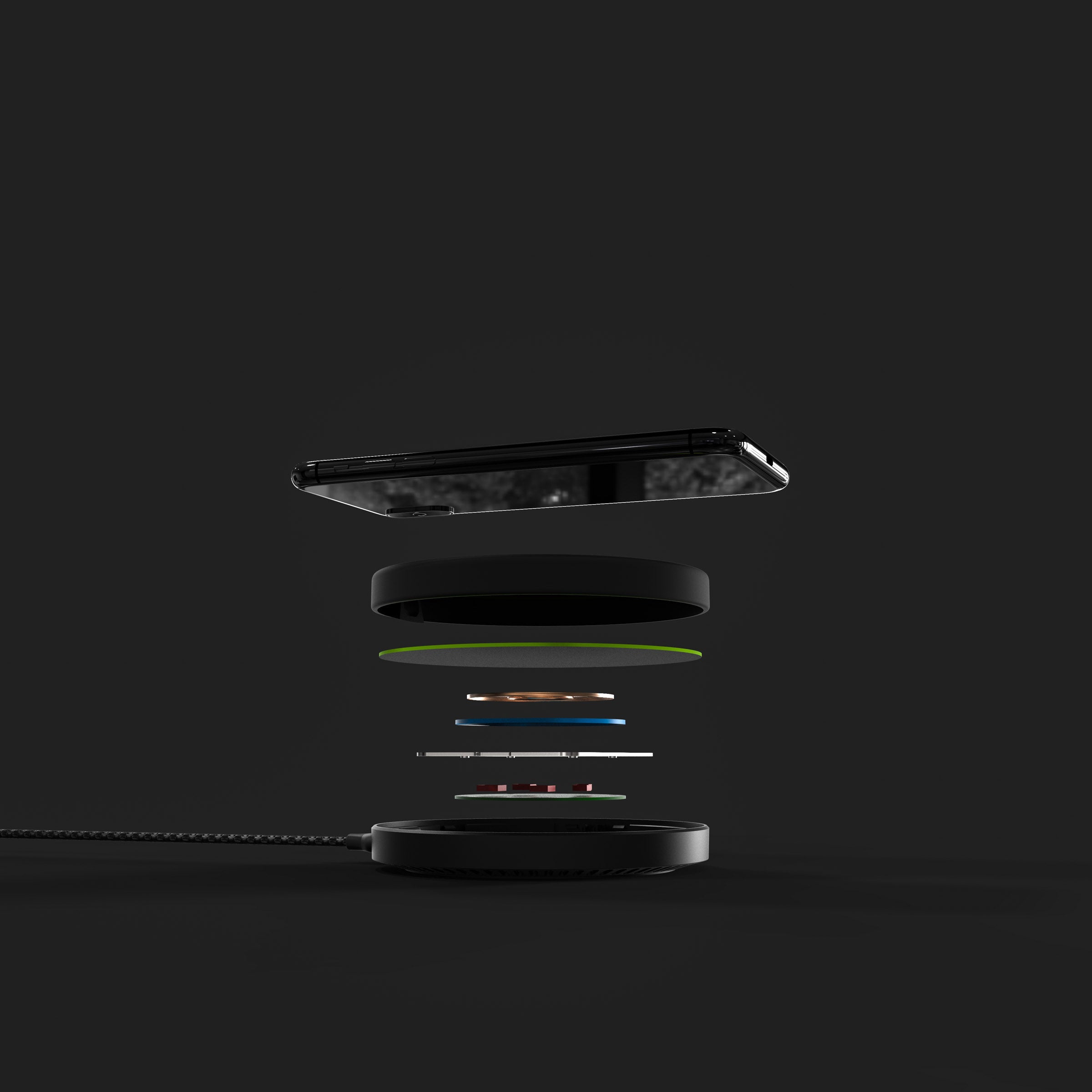 Max speed iPhone charging
Custom precise frequency electronics let NightPad charge up to iPhone's max rate of 7.5W. Many Qi chargers claim this, but don't do it
Ultra-minimal design.
One matte texture over the entire body. Beautiful braided cable. Non-contrasting logo.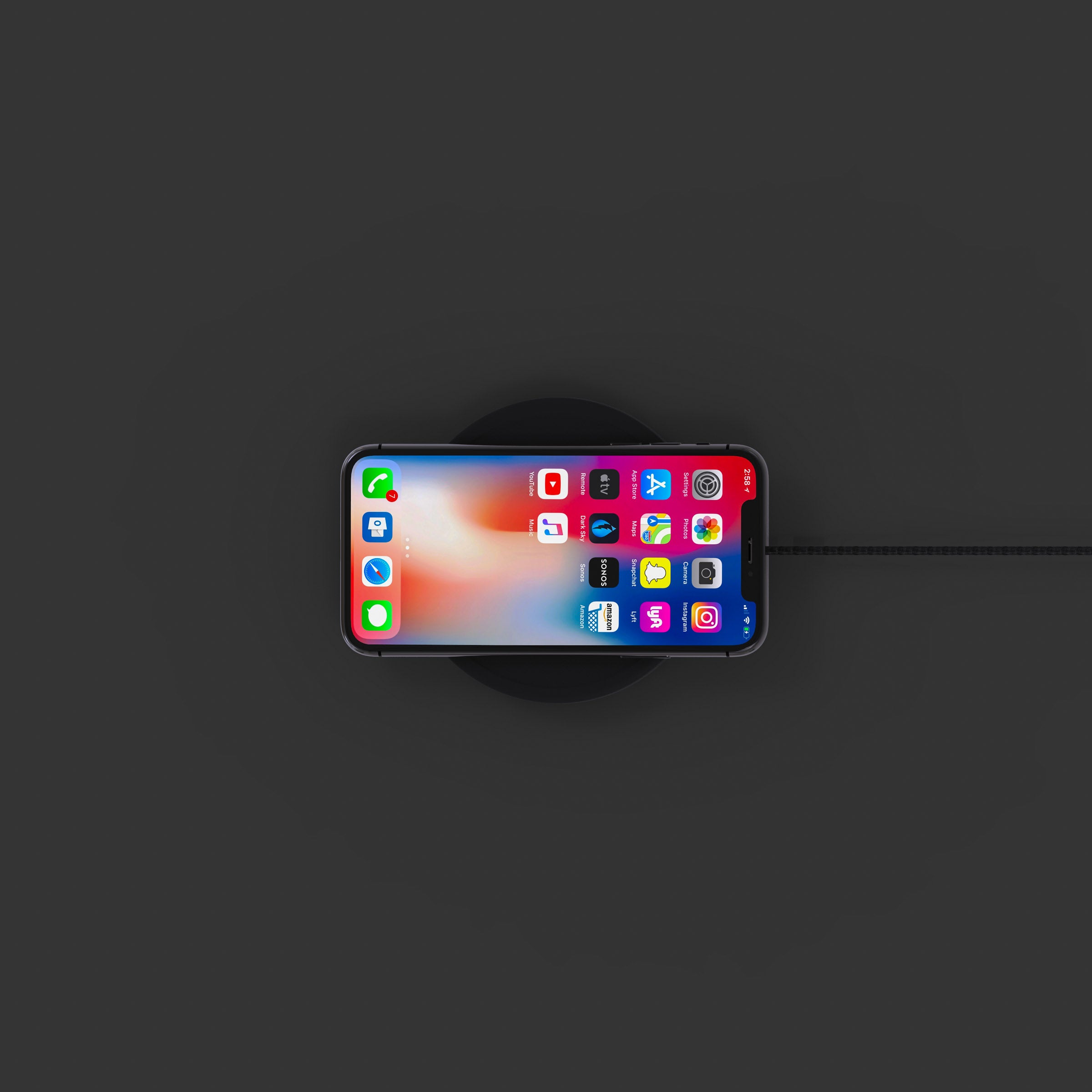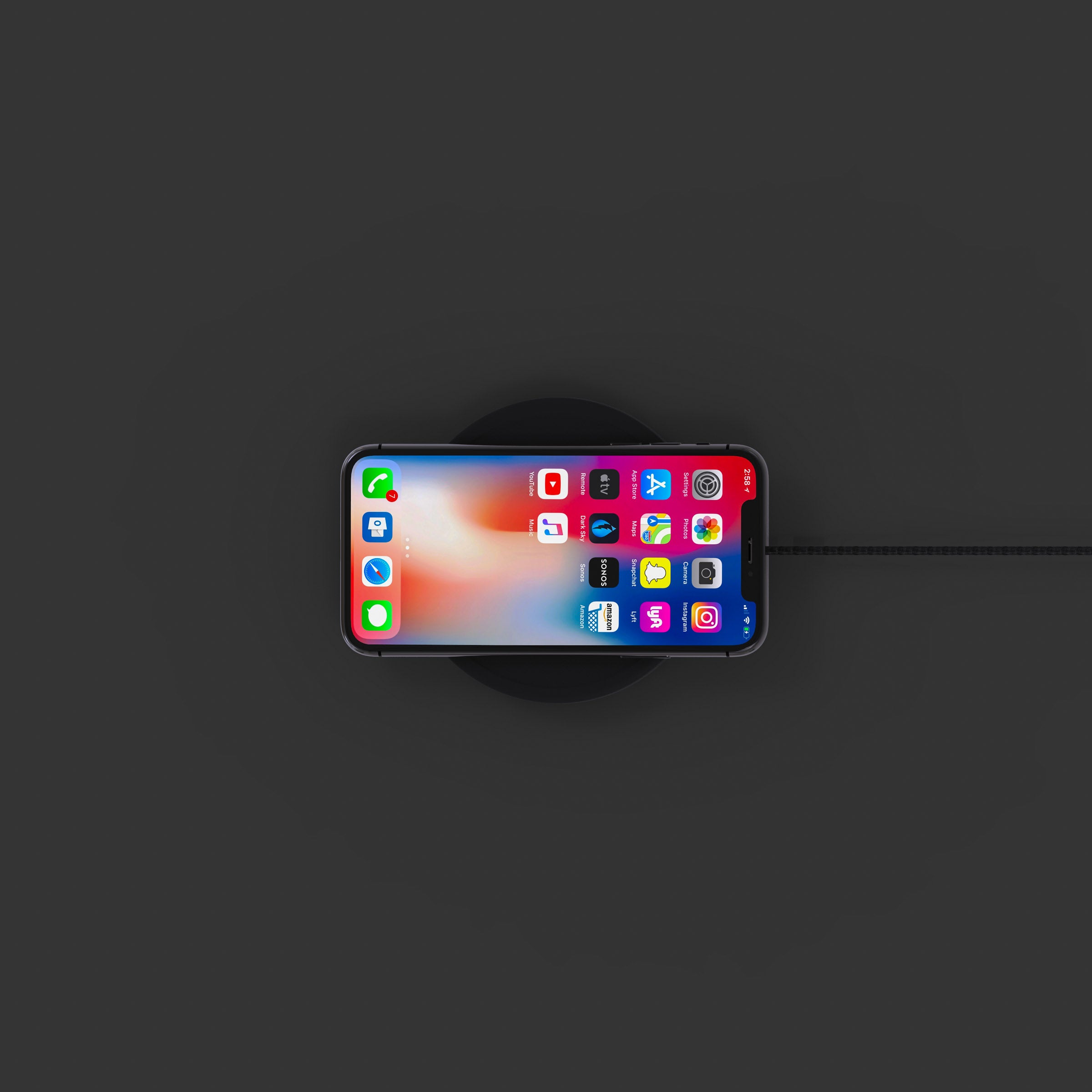 Qi Certified
WPC approved and safely works with all Qi certified recievers.
Also supports Samsung 10W fast charging.
Optional 15W power supply
NightPad works with all USB ports that provide at least 1A power, but 2A is recommended. And a Quick Charge 3.0 rated power supply (that can output 9V) is required for maximum speed charging.
VISUAL
Lightning bolt overlaid on the battery symbol.
SPEAKERS
With the sound on, you'll hear it when charging starts.
VIBRATION
iPhone can vibrate when charging starts.
iPhone will let you know it's charging
iPhone gives multiple indicators that it's receiving power, just like with a Lightning connection. A lightning bolt shows up over the battery indicator, it will make a ding if the the sound is on, and it can vibrate (Settings > Sounds & Haptics > System Haptics).
Works With Cases
NightPad can penetrate cases up to 3mm thick. This includes thick cases like Otterbox.
We're working on some cool new stuff.
Join our email list (rarely sent, no spam) to know when we launch something new.
AS SEEN ON