Final Sale
$11.96
$29.95
saving
$17.99
description
compatibility
Reviews
Outlet: All sales are final.
A hybrid charger that combines the flexibility of a cord, the speed of a wired connection, and the benefits of a dock - in ultra-compact form.
Directions: Pull up to undock one-handed like normal. Or rotate forward to take the cord with you!
Tiny footprint (it's the smallest dock for iPhone to our knowledge) so it takes up minimal space.
Adjusts to fit cases up to 4mm thick (that's most cases except big ones like Otterbox).
Premium CNC machined stainless steel & reinforced matte polymer construction. The NanoPad bottom locks to smooth surfaces with micro air-suction (not adhesive). Beautiful and durable 6ft braided cord.
Apple MFi certified with an Apple-made connector.
Powers 2-3 times faster than Qi wireless & you can freely hold your iPhone while charging.
CordDock was years of engineering, prototyping, and testing to work well and be durable. Patent pending. If you like it as much as we do, there's a shot it could be your favorite accessory for iPhone.
CordDock V2 updates CordDock with stronger internal welding, more friction on the rear knobs, and some small geometry updates that make cord disengagement even easier. 
Fits cases up to 4mm thick. Not compatible with extra thick 2-part cases, like OtterBox and LifeProof.
Works with all Lightning iPhones (5/6/7/8/X)
Compatible with all Apple cases (including the battery case) and all that conform to Apple's specifications for case design.
Tried the prototypes and it's awesome
What a great design... Goes on my bedside table and I love being able to dock my phone and be able to grab it while still charging.
" It already feels right at home on our desk. It is pretty freeing to be able to effortlessly dock and un-dock your phone, continuing the charge the whole time. ."
- Andrew O'Hara, AppleInsider
"Just like its bigger brother, CordDock stands apart from the competition as a premium and highly functional dock. With the super slim, sharp design, great functionality, flexibility, and the one-handed undocking, this is really worth picking up! What's better is the $40 asking price makes it feel like a steal"
- Michael Potuck, 9to5Mac
CordDock gives you freedom
Click the buttons to try it yourself.
All the benefits of a dock + the flexibility of a cord
You always know where it is, one-hand undocking, convenient viewing angle, and you can freely use/hold iPhone in your hand when you want to.
It just works, easily
Pull up to undock one-handed. Or rotate forward to take the cord with you.
And it's self guiding to reset the cord back in.
The smallest dock for iPhone
Cordock's tiny footprint is a fraction the size of even Apple's docks. We think you'll really appreciate how little area it takes up, especially at your desk or bedside, where space is at a premium.
Great with cases
The backpad is dial adjustable and the magnetic baseplates are easy to swap. Fits cases up to 4mm (that's almost all cases except OtterBox).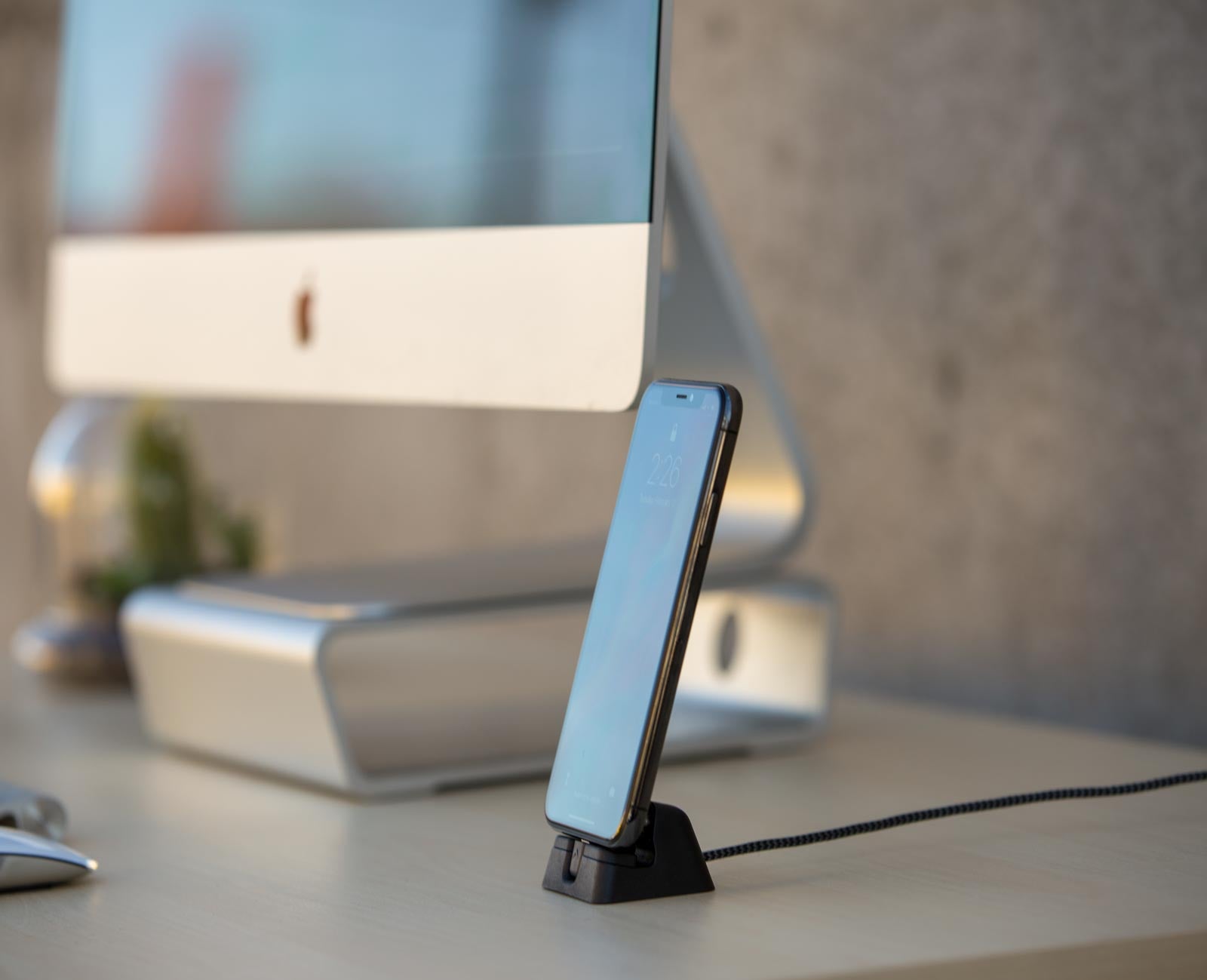 Apple MFI Certified
The Lightning connector is made by Apple and you can trust CordDock will perform. We guarantee it.
Mechanically Engineered
The spring loaded detents disengage with a 20:1 lever force when you rotate the phone forward - that makes it's easy to use and puts little force on the Lighting connector (much less than a standard dock). And cyclical loading is solved with a specially designed stainless steel & dual polymer connector - so it can take several lifetimes of use.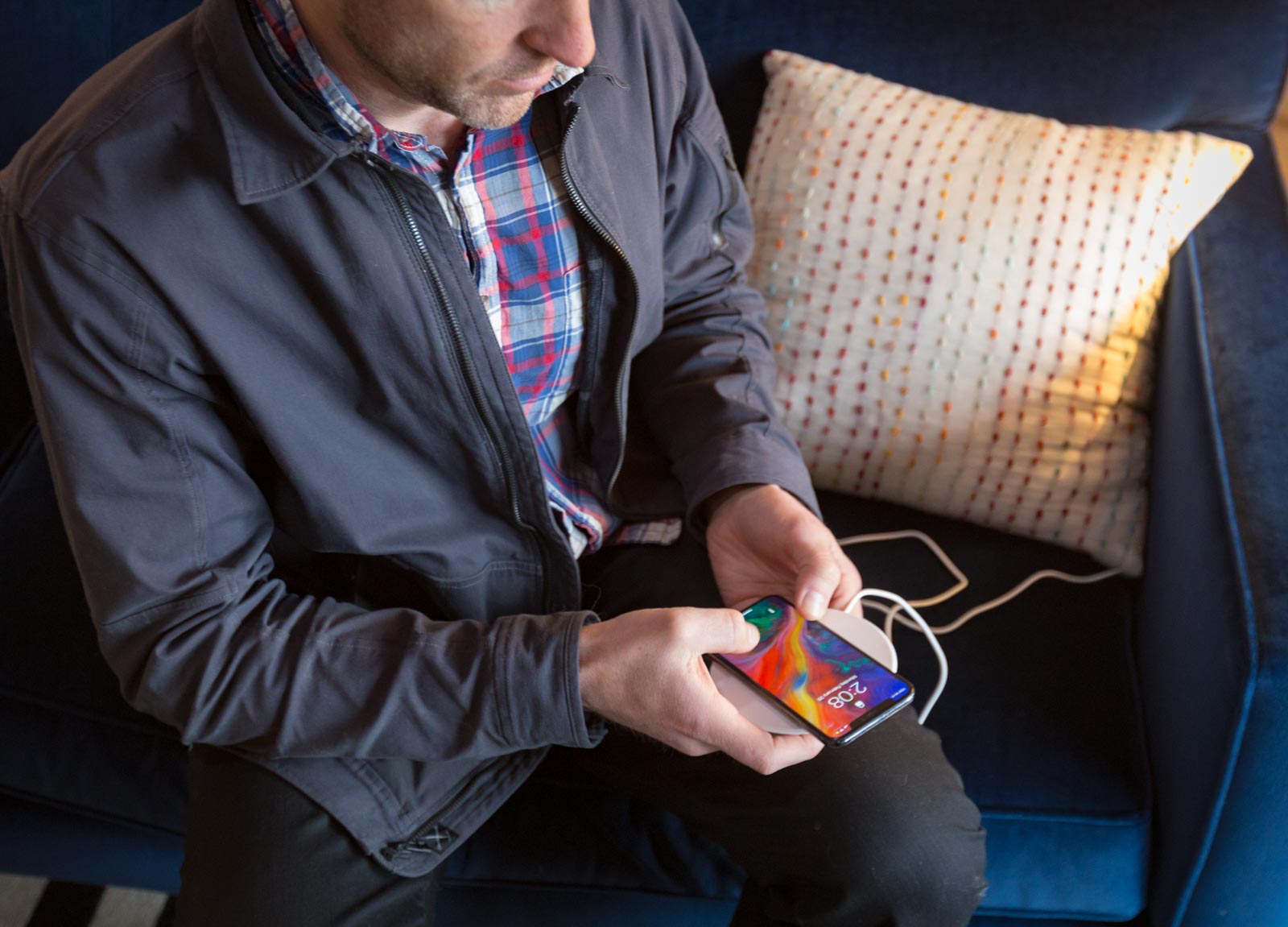 Faster than Qi & no contact required
CordDock can charge your iPhone 2-3x faster than induction & you can freely use/hold your phone while charging - with no precise placement needed.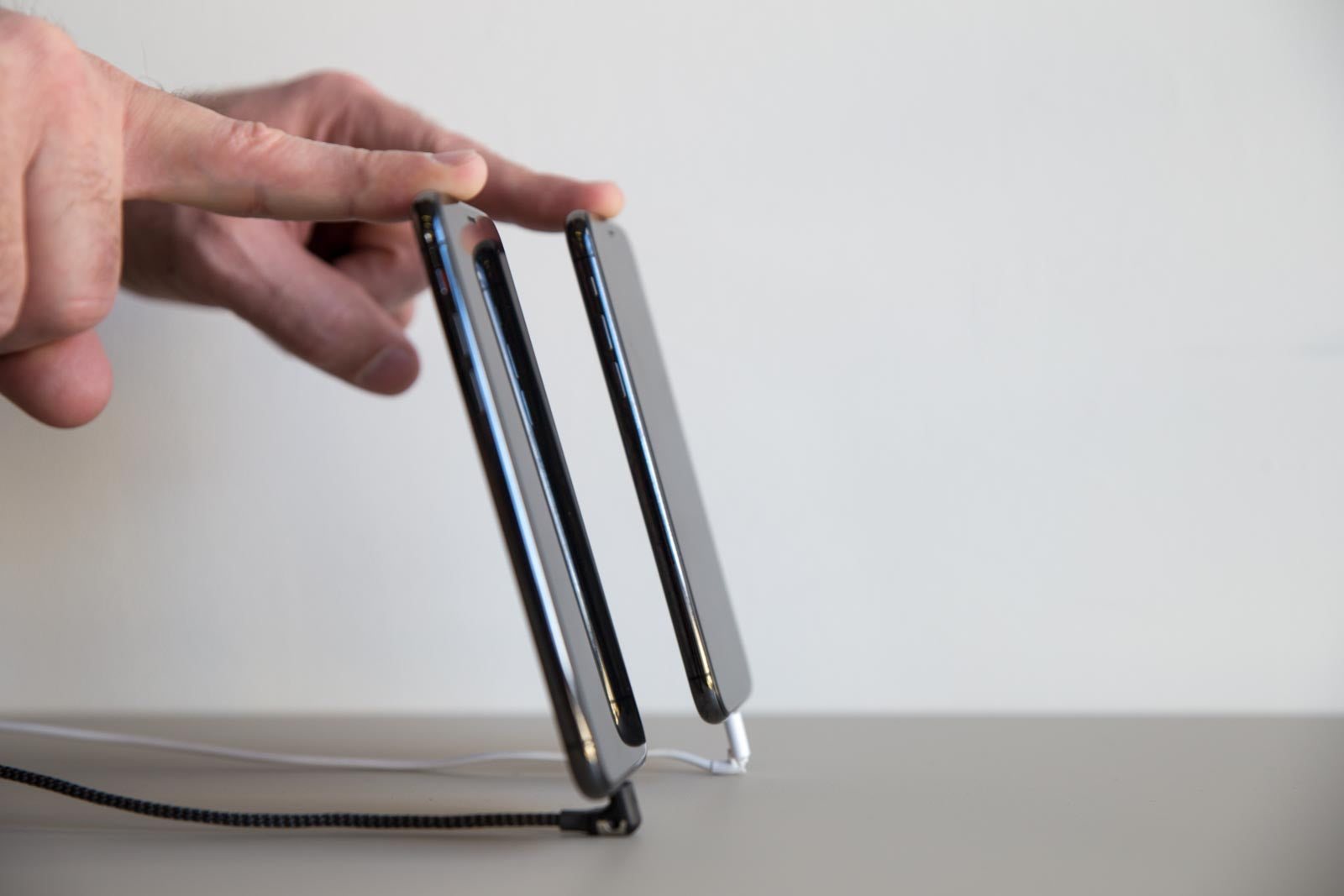 Side-benefit - really comfortable on your chest
You know what this is like: When you charge & use your phone while laying down (like on the couch or in bed), normal cords sharply bend, strain, and stab you in the chest. CordDock's wide 90° head rests strain-free & is much more comfortable.
Speed, size, & function like no other.
It's the most convenient way charge iPhone.
We're working on some cool new stuff.
Join our email list (rarely sent, no spam) to know when we launch something new.
AS SEEN ON